ASJ Nozzles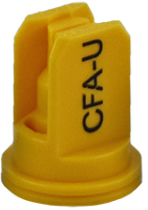 ASJ Spray Jet Nozzles From ARAG provide excellent value. The Air Induction Nozzles in the line can be broken down as follows

LDC-Pre-orifice Nozzle Compatibale with PWM systems like AIM and Exactapply
Provides medium to coarse droplet sizes with a long life ceramic orifice. Excellent all around nozzle choice  for PWM  users at agreat price point
TFLD-PWM Compatible Twin Nozzle
This Nozzle produces XC-C droplets from twin 15° inclined orifices great for PWM users with drift sensitive applications and looking for improved coverage on shaded or vertical targets
CFA- An all use air induction nozzle
Thick Pattern C-M droplet sizes pressure range from 30-100psi, Plug resistant and       easy to clean
CFAT-Air Stubble Jet- All Use Air Induction Nozzle with 13° spray inclination
Flat fan pattern at a 13° inclination for improved coverage of vertical targets and small weeds shadowed by stubble in pre-seed and post harvest applications. Plug resistant and easy to clean C-VC droplet size 30-100psi.
CFAU-Excellent drift control Air induction nozzle
XC-C Droplet sizes plug resistant easy to clean design make this nozzle an excellent choice for drift sensitive applications.
AOC-Air Induction Off Centre Nozzle-Excellent for Fence Row Applications
The Compact Fan Air Off Centre has an off centre angle and will spray out and down in a fence row application. It is drift resistant and provides 5-8 ft of distance from the boom end. Nozzle Ninja's Best Seller for End Row Nozzles
ASJ Nozzles