Spraytest Boom Section remote Control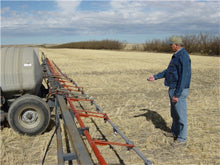 Have you ever wanted to be in two places at once? The Spraytest boom section remote control system allows you to live that dream! Save time by reducing trips around the boom, make nozzle checks, boom cleanout, and repairs safer by controlling the flow of product from wherever you stand. Less trips up the ladder, less exposure to the products coming out of the boom. The Spraytest is even better for the environment don't waste any more product than necessary because the Spraytest puts you in control.
Spraytest was one of the first to design a remote control system for sprayer boom section valves. They have been doing this a long time and know how to do it right. from quality connections to robust remote controls you can count on this system to perform as it was designed.
Each Remote Boom Control comes complete with all the harnesses required to fit a particular sprayer. The harnesses provided plug directly into existing harnesses on the sprayer to make installation quick and easy (approx. 15-30 minutes).
Spraytest Boom Section remote Control